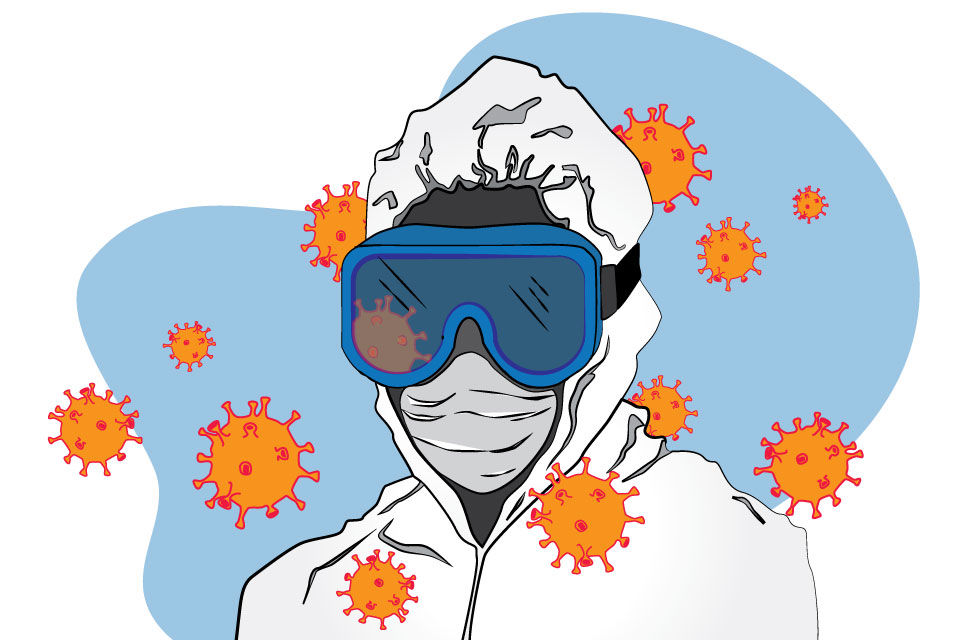 The title "Life during Lockdown ne' Quarantine" was given me as part of a blog prompt of the Chennai bloggers club where various members have written about their lives during the compulsory lockdown for the past few months to prevent corona virus transmission. I really don't know if I am qualified to write on the same topic as my situation is very different and hence I prefer to go with a title reflecting reality. I was never in lockdown but was in quarantine for a few days initially; as I have been working continuously ever since the first reports of the virus came in -every alternate week on-duty with a week off as self-quarantine for the first month (March) aka the initial denial phase when corona was supposed to go away if our eyes were closed tightly. This on/off weekly concession was gradually reduced to five days on/off, three days on/off etc in the subsequent months as it was decided by the powers that be that the hospital's need all hands on deck and they were willing to risk working the doctors continuously and may the strongest healthcare worker survive in this gladiatorial contest for the watching/voting public's edification (doctors were never a significant vote bank for our politicians).
As such I don't have any big lockdown stories to share about how lonely I felt at home (for I was travelling the empty roads daily) or how desperate I was to dial up former girlfriends and ask them if they were still alive and available(Link to that Blogpost of Jo's here). I meanwhile am being asked at every checkpoint by our local version of the Minneapolis cops to show that my face on my government issued official id card with a photo taken eight years ago matches my current mask wearing countenance of today to authenticate that I am indeed travelling for work even as my vehicle is the only one on the road at such an early morning or late at night. So, I am slightly jealous that a lot of people are doing work from home and getting by with spending time at work in a "homely atmosphere" while others are enjoying the true benefits of the lockdown by staying at home and doing stuff like having a second honeymoon. Unfortunately, being classified as essential services I don't have the luxury of doing either duty or pleasure at home
For me it has been work from office all this time and being classified as essential service there has been no long period of relaxation at home, it has all been business as usual. Scratch that. It has been far from business as usual. The constant fight for protective gear, for safe working conditions, for getting paid for that work instead of being forced to contribute against my will to the pm and cm cares fund from my already meagre salary, to, hold your breath in irony, to fight against coronavirus, the same corona virus I am already fighting against was the height of callousness on the part of the government. So when there are empty gestures like banging pots or throwing flowers from helicopters I am tempted to say take these gestures and shove it up your arse and pay me my full salary for working without a break all this while and don't "voluntarily" deduct my salary for your idiotic schemes.
Or spend a whole working day – eight hours enclosed inside a thick thermo-plastic sheet covering head to foot with no air ingress anywhere, rivulets of sweat flowing down the back so that the clean scrubs you wore underneath are already soaked wet in a half hours' time and wearing an N-95 mask, tied tightly on to prevent the smallest leakage to unfiltered air through any part of the nose or mouth or chin region, with the tight elastic backing straps pulling your ears forward till you realize that damn even ears can get sore, the strong and rough aluminium framework of the front working end compressing your nostrils, pinching them so hard you are left drooling through your nostrils and tasting your snot for the first time since kindergarten (believe me not a pleasant experience) and either left to suffocate with snot running down your nostrils or to learn an entirely new skill- how to breathe through your mouth and that too breathing through those multiple filtered layers of the n-95 leaving you with less than half the oxygen you inhaled at first finally reaching your lung leaving you permanently oxygen craving and resisting hyperventilation(and panicked breathing) through sheer willpower and to wear a full face shield over top of all this with one more tight elastic strap pinching the forehead tightly and leaving you with hazy vision if the plastic external which has just been wiped with surgical spirit between patients has left over smudges and through all these trying to communicate with the patients speaking nasally like Darth Vader from the Star wars franchise. Do this first; do all these first and then come and tell me how as responsible citizens of the country we should all be willing to sacrifice for the country and if that includes voluntary donations to some politicians care fund we should be ready to do it.
Now that the rant has been put out of the way let's get back to the actual blogpost. To sum up- my life during lockdown sucks majorly. Although there is the awareness that I am living through interesting times (having complained a lot previously about how my boring my life was), this constant war against known and unknown enemies (the unknow being the virus) is a serious drag on both my physical and mental health and well-being. To everyone who asks so how are you? the only honest answer I can give is, I am surviving-on a day to day basis, no long-term plans yet. If and when we get through this corona virus thing all I want to do is take a long vacation in some Caribbean beach – Bahamas or Jamaica, just lie on the sand with a raspberry breezer in hand and enjoy the solitude of the not-needed/useless human being, the non-essential worker so to say, whose absence no one will miss. Till then all I need is a cup of hot strong filter coffee every two hours, oh wait, once I have dorned this sterile suit I cannot remove it for any reason without breaking sterilization protocol; so hold that coffee till the end of my shift. And while at that, hold everything else too, for PPE's are scarce resources strictly rationed and cant be changed/wasted again and again if someone has a weak bladder and wants to go so often. Bladder control, ladies and gentlemen, mind over matter so to say is my true gain this lockdown period.